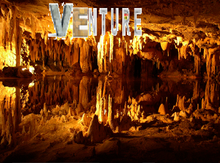 Venture is one of several video game franchises in LEGO Dimensions.
Background
Venture is a video game about surviving in the Medieval Era as a man named Robert Jacob. In addition, the game features building elements, which made it even more idealistic for inclusion in a LEGO video game. Basically, a cross between Spore and Terraria, and with some elements of Dwarf Fortress and Dungeon Keeper.
Related Characters/Objects
Adventure World
Woods

Farm
Robert's Wood Shelter
Castle

Wyve
Snow Woodlands

Winter House
Igloos
Icy Spikes

Desert

Desert Outpost
Alien Temple
Well

Hell

Hell Fort
Decayer's Abode
Hell Spire

Alone House
Rainforest

Amazon Clubhouse
Lost Temple

Dlab Tribe

Tribal Library
Tribal Farm

Quagmire
The Sea
Morel Island
Trivia
This is the first appearance of the Wall Cut ability since it's debut LEGO Star Wars III.
One of the achievements references BIOMECHA.