[IMAGE IS COPYRIGHTED BY STEVEN VU ON FLICKR! I DO NOT OWN THIS IMAGE!]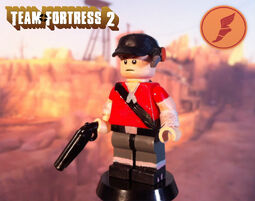 The Scout
The Scout is one of the team Pack Characters in LEGO Dimensions,
from the Team Fortress 2 franchise.
Name: Jeremy (Just Jeremy).
Gender: Male.
Franchise: Team Fortress 2.
Weapons/Accessories: Scattergun, Pistol, Energy Drinks, and Baseball bats.
Vehicles/Gadgets: Dispenser.
Occupation: Mercenary.
Residence: Red Base/wherever TF2 takes place.
Abilities
Acrobat (He is the fastest class in TF2, and he can double jump.)
Target (His scattergun/pistol can shoot bullets.)
Invincibility (BONK Atomic Punch makes him immune to damage, but cannot attack.)
FaN Jump (The scout has access to a 3rd jump where he can shoot the ground with his Force-a-Nature, and propel him like a 3rd jump.)
Quotes
"Looks like you called the right man with a plan!"

— The Scout's line when entering the game.
"Sorry guys, I have a date. It's a real one, I swear!"

— The Scout's line when leaving the game.
"The world ain't big enough for the two of us pal!"

— The Scout to The Scout.
Team Pack Info
Characters: The Engineer, The Scout.
Gadgets: Sentry Gun, Dispenser.
Community content is available under
CC-BY-SA
unless otherwise noted.