The Riddler is one of the Blind Bag characters in LEGO Dimensions 2: The Rise of Enoch, from the DC Comics franchise.
Background
As a kid, Edward Nygma (or Edward Nashton) was fascinated with word-games, puzzles, and riddles to the point where he became obsessed with them. He would then use this obsession to test his wits against the law and after much success tricking the average man/woman, he turned to crime as the Riddler. He set his sights on Batman, believing that he would be a worthy adversary, and leaves behind a clue at the scene which Batman always manages to solve before apprehending him. Unlike the other Batman rogues, the Riddler commits crimes behind mind games and it takes Batman's intellect to solve them rather than physical force. The Riddler has a genius intellect in constructing riddles and is armed with his "?" cane that contains weapons and computer technology.
About 7 years later, he discovers Batman's identity as Bruce Wayne, but Batman pointed out that if he revealed the riddle, his life will become pointless. After several wrong turns in his life, and getting beat up a lot, he eventually got hit on the head with a mace and forgot it all. After being in a coma, he turned over a new leaf and became a detective that rivaled the skill of Batman himself, earning Batman and Commissioner Gordon's trust. However the stint as a hero was short lived, as an explosion reverted him back to his mental insanity and obsession with riddles.
Dimensions Crisis
Employed by Lord Vortech whilst under orders to steal the Palintir, he takes over Minas Tirith while being accompanied by Orcs and turns it into a game show, challenging the heroes with riddles hinting towards his newly-acquired Balrog.
Grand Interdimensional War
TBA
Music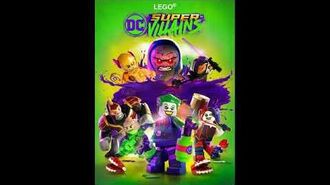 Gallery