Franchise: Arrowverse
Accesories: Unknown
Appear In:
LEGO Dimensions 2
Powers Collision
The Atom is one of the Story Pack Characters in LEGO Dimensions 2 Powers Collision, he belongs to the Arrowverse Franchise.
Background:
Dr. Raymond Carson "Ray" Palmer (born 1981), is a businessman and the former CEO of Palmer Technologies, previously known as Queen Consolidated. He is the son of David and Sandy Palmer and younger brother of Sydney Palmer, who in at least one version of the future is considered to be the father of the robotics industry. Ray is the husband of Nora Darhk, the ex-fiancé of Kendra Saunders and the late Anna Loring, the ex-boyfriend/good friend of Felicity Smoak, the best friend of Nate Heywood, and a good friend of Cisco Ramon, Sara Lance, Amaya Jiwe, Zari Tomaz, Zari Tarazi, Behrad Tarazi, and the late Martin Stein.
Having designed a powerful exosuit, Ray began acting as a vigilante in Starling City, calling himself The Atom. While testing out a new function of his exosuit, Ray accidentally caused an explosion which shrunk him to a miniature size; stuck in this state and unable to call for help, he was presumed dead. After six months, during which time the city was renamed "Star City" in his honor, Ray managed to contact Felicity but was captured by Damien Darhk and H.I.V.E. for his technology. However, thanks to the efforts of Team Arrow, Ray was rescued and would continue to aid them in their fight against Darhk.
In early 2016, Ray was recruited by time-traveler Rip Hunter into the Legends on a mission to take down Vandal Savage. After Ray's A.T.O.M. suit was destroyed during a mission in Feudal Japan, Mick Rory gave him the Cold gun. He nicknamed himself Colonel Cold, using both Leonard Snart's weaponry and goggles. After getting a new source of dwarf star alloy, Ray went back to his Atom identity. He is later knighted Sir Raymond of the Palms, Defender of Camelot by Queen Guinevere in 507.
Ray was possessed by a powerful demon, Neron, after accidentally interfering in Nora Darhk and John Constantine's efforts to subdue the demon until Neron killed Nate (voiding the deal he made: sparing Nate in exchange for control of his body), allowing John to kill Neron and grant Ray his body back.
Post-Crisis, Ray helped the Legends fight the Encores such as Damien Darhk, who gave his blessing for Ray to marry Nora. After getting married, Ray and Nora chose to leave the Legends and focus on Nora's job as a Fairy Godmother.
Abilities:
Fix-It
Target
Mini Access
Mini Access Targeting
Slurp Access
Extra Small Access
Intelligence
Drone
Super Strength
Super Strength Handless
Time Machine Puzzle
Shrinkring Ray
Transformation (Giant and Small)
Character Changing (Can Change into Nora Darhk)
Toy Tag: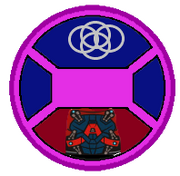 Gallery: