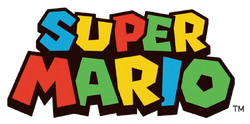 Super Mario
is one of the many franchises of LEGO Dimensions. It is a Sub-Franchise of
Nintendo
.
Related Characters/Objects
Super Mario Odyssey Story Pack

Mario
Battle Arena: Cloud Kingdom
Levels:

Cap and Cascade
Sand and Lake
Wooded and Lost
Metro and Snow
Seaside and Luncheon
The Final Fight (Ruined, Bowser, Moon)

Luigi Fun Pack

Luigi
Battle Arena: Luigi's Mansion (Gamecube)

Princess Peach Fun Pack
Wario and Waluigi Team Pack
Bowser Fun Pack

Bowser
Battle Arena: Moon Caverns (Odyssey)

Captain Toad Fun Pack
King Boo Polybag
Mario Mario

Yoshi
Mario's kart

Mario's Jet
Mario's Tick Tock Bomb
Customs by Abram.boyd.5
Super Mario Level Pack

Mario "Jumpman" Mario

Mario Kart
Yoshi (Vehicle)
BA: SNES Battle Arena 1 RT: N64 Toad's Turnpike
Luigi's Mansion/Yoshi Team Pack

Luigi Mario
Yoshi

Kamek's Magic Broom

Mysterious Kamra
Zap Zap the Bronze
BA: NS Luigi's Mansion RT: DS Baby Park
Super Mario Fun Pack

Bowser

Bowser Jr.

Shadow Mario

Koopa Clown Car
Koopa Pipe Bomb
Koopa Troop Chopper
BA: Bowser in the Sky RT: DS Delfino Tour
Super Mario RPG: Legend of the 7 Stars Polybag
BA: Battle in the Factory RT: Valley of Stars
BA: Wario Land RT: WII Wario Mines (Geno Cannon Box and Daisy Sky Pop sold separately)
Super Mario Odyssey Level Pack
Levels
Customs by MegaFandroidFan9001
Another Mysterious Galaxy
Worlds
Mushroom Kingdom

Princess Peach's Castle

Tatanga's Revenge (Quest from Daisy)
Toad Rescue Time (Quest from Toad)
Peach's Cake (Restoration) 30,000 Studs
Jukebox (Restortation) 15,000 Studs

DK Island

Donkey Kong's Treehouse
Guarding the Hoard (Quest from Donkey Kong)
Barrel Cannon Race (Quest from Diddy Kong)
Banana Hoard (Restoration) 20,000 Studs

Yoshi Island

Yoshi's House
Feed Me Some Cookies (Quest from Yoshi)
Baby Yoshi Egg (Restoration) 10,000 Studs

Luigi's Mansion

Boo Hunt (Quest from Luigi)
E. Gadd's Lab (Restoration) 25,000 Studs

Bob-omb Battlefield

Koopa Foot Race (Quest from Koopa the Quick)
Bob-omb Factory (Restoration) 20,000 Studs

Wario Land

Treasure Finding Race (Quest from Wario)
Mario Tennis Match (Quest from Waluigi)

Dark Land

Bowser's Castle

Princess in Another Castle (Quest from Peach)
Koopalings' Rooms
Bowser Jr.'s Room
Mushroom Kingdom

Toad Town
Peach's Castle

Bob-omb Battlefield
Whomp Fortress (its also Throwback Galaxy)
Rainbow Cruise
The Endless Staircase
Wip
Community content is available under
CC-BY-SA
unless otherwise noted.