Sonic Turist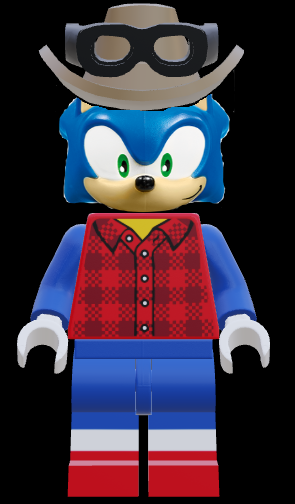 Franchise: Sonic Movie
Gagdet:
Washer Machine
Accesories:
Chilli Dogs and Camera
Appear In: LEGO Dimensions 2 Powers Collision

Sonic Turist is one of the Team Pack Characters in LEGO Dimensions 2 Powers Collision, he is from the Sonic Movie Franchise and is included in the Sonic Turist and Tom Wachoski Team Pack.
Background:
Sonic was born on an unnamed planet where he spent his childhood living under the watchful eye of an anthropomorphic owl named Longclaw. He possessed a great power which gave him super speed, but also made him a target for a tribe of echidnas that sought to take his power for themselves. One day, Sonic raced across his island home to bring Longclaw a flower, much to the owl's chagrin, as she feared he might have been followed. Sonic expressed confidence that he was moving too fast to be seen, but Longclaw notices that echidna tribesmen have surrounded her house and grabs the hedgehog as she takes flight in an attempt to escape. Unfortunately, Longclaw is shot down from the sky by an arrow by one of them, so she uses a golden warp ring to open a portal to Earth and tells Sonic that as long as others know about his power, he will always be in danger by those seeking to take it. She then instructs him to take her bag of Gold Rings and head through the portal so he can live safely in a world oblivious to his existence.
Present
Sonic is left alone on Earth to build his new life there in secret, living in a cave for many years and watching the citizens of Green Hills, Montana from afar. None of them knew about Sonic's existence besides an elderly man called Crazy Carl, who claims him to be a blue devil. Among the citizens of Green Hills, Sonic's favorite people are police Sheriff Tom Wachowski and his wife the veterinarian Doctor Maddie Wachowski. One night, Sonic used his super speed to play round of baseball all by himself and realized just how lonely he really was. He tried to run off his frustrations, but ran so fast that he caused an electromagnetic pulse that knocks out power across the Pacific Northwest. This catches the attention of the United States Department of Defense, who decide to acquire help from the deranged genius Dr. Robotnik in seeking out what caused the power outage.
Sonic immediately becomes distraught as government soldiers begin to comb the area near his cave and reluctantly decides to initiate his back up plan: use a Gold Ring to travel to a seemingly barren planet covered with gigantic mushrooms. Sonic quickly packs the equipment he wants to take, but feels it is not safe to open a portal with government soldiers closing in on his location. He instead races into the Wachowski backyard shed to use a Ring, but is discovered by Tom Wachowski, who shoots him in the thigh with a tranquilizer dart. As Sonic passes out, he mumbles the location on Tom's shirt, San Francisco, which opens a Warp Ring to the city before he accidentally drops his bag of Rings through it.
Sonic soon awakens inside the Wachowski household and convinces Tom to help him stay hidden from his pursuers just as Robotnik arrives at the front door. Tom tries to hoax Robotnik into leaving as Sonic hides in the attic, but the doctor uses his airborne robot drones to scan the property, forcing the hedgehog to go downstairs to avoid detection. However, when Sonic discovers that Tom was in danger, he reveals himself to Robotnik to save Wachowski's life. Tom uses this distraction to knock Robotnik unconscious before Sonic stops a robot drone from shooting them by hopping into and destroying it.
Although the pair manage to drive out of Greens Hills safely, Tom pulled over to part ways with Sonic, despite the latter having no idea where he must go to reclaim his bag of Rings. He makes a single attempt going to San Francisco on his own using super speed, but is unsuccessful, so he persuades Tom to drive him there. On the way, they stop at a bar where Sonic decides to make a bucket list of all the things he wants to do before leaving Earth. He begins to fulfill his list with Tom's help until they soon get involved in a bar fight that Sonic finishes by rearranging things to his advantage within seconds.
Sonic and Wachowski stay the night at an inn before continuing their trip the next day. However, Robotnik hones in on their location and sends a remote-controlled truck to stop them. The truck launches a harpoon into Tom's car, causing Sonic to get out and attempt to stop the truck. He tries approaching the pursuing vehicle, but loses his footing just as he suddenly builds up energy. Sonic rolls into a ball to protect himself and bowls over the truck on its side. Unfortunately, another vehicle soon emerges from the trucks wreckage to continue the chase. This vehicle fires EMP discs to slow the heroes down, but Sonic uses them to get on top of their pursuer and uses one to disable it. The remote-controlled vehicle separates again, only to be spun out by Tom, causing a frustrated Robotnik to deploy a miniature drone to eliminate them. The drone cuts the roof off Tom's car with a laser before Sonic manages to grab it. But the drone to get stuck on his hand and trigger a self-destruct mechanism, leaving him with little time to dispose of it. Sonic succeeds of getting rid of the explosive device just in time, but is rendered unconscious when he is blown away by the blast.
Terrified for Sonic's well-being, Tom takes him to Maddie, who is visiting her sister Rachel and niece Jojo at that time in San Francisco. Maddie manages to revive him. While there, Sonic is granted a gift from Jojo in the form of new shoes to replace his worn-out ones. With the new shoes, and Maddie joining Tom in helping Sonic out, they travel to the Transamerica Pyramid, where Tom is able to gain access to the roof due to his position as a law enforcement officer, and Sonic recovers his ring bag.
However, before he can leave for the next world and leave Tom, Maddie, and Earth behind, Sonic is confronted once more by Robotnik, who is now flying the Prototype with an army of his drones with him. Sonic, in order to save Tom and Maddie's lives, pushes them off the building before using his supersonic speed to take out Robotnik's drones and also save them, but using the quill he captured earlier back at Tom's house, Robotnik is able to enter supersonic speed himself and nearly ruin Sonic's rescue attempt. Sonic manages to get Tom and Maddie, transported by ring portal, safely back to Green Hills, before dealing with Robotnik and the Prototype, having their chase pass through Paris, the Great Wall of China, and the Great Pyramids of Egypt, before Sonic attempts to escape back to Green Hills, but Robotnik manages to land a powerful hit just as Sonic is about to enter the portal, causing Sonic to be mortally wounded and left at Robotnik's mercy as they return to Green Hills.
Robotnik prepares to take Sonic back to be dissected to learn the secrets of his powers. Tom then tries to protect Sonic by attacking Robotnik himself, but is quickly overpowered. However, the people of Green Hills rally to Tom's aid, angry at Robotnik for attacking their Sheriff and Sonic, and when Tom declares Sonic his friend, Sonic gains a miraculous second wind, and soon begins to glow with that same power that gave away his location previously, but now in full control of it, intending not to run, but to protect his friends, and unleashes his fury on the Prototype, severely damaging it before Tom opens a portal to the mushroom world Sonic intended to travel to previously, but deciding Earth is his home now, with a final, powerful spin attack, Sonic destroys the Prototype and sends it and Robotnik through the portal, never to threaten anyone again.
Sometime later, Tom and Maddie reveal to Sonic that they transferred all his stuff from his cave to their attic, making it up so Sonic can use it as his room and live with them from now on, much to his joy. Sonic soon settles into his new life living in Green Hills with Tom and Maddie, now among friends at last, proving that his earlier fears and warning from Longclaw were no longer needed.
Abilties:
Rodeo
Acrobat
Treadmill
Super Transformation (Lightining Sonic)
Electricity
Electricity Absorption
Teleport
Raven Portals
Sonic Races
Stealth
Toy Tag:
gallery: