Son Gohan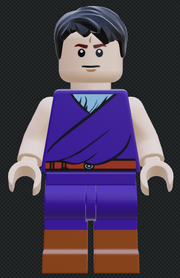 Franchise: Dragon Ball
Vehicle:
Accesories:
Gohan Sword
Mystique Gohan Hairpiece
Appear In: LEGO Dimensions 2

Powers Collision
Son Gohan is one of the Team Pack Characters in LEGO Dimensions 2 Powers Collision, he belongs to the Dragon Ball franchise.

Background:
Son Gohan (孫そん悟ご飯はん Son Gohan) is a half-breed Saiyan. He is the elder son of the series' primary protagonist Goku and his wife Chi-Chi, the eldest nephew of Raditz, the older brother of Goten, the husband of Videl and father to Pan. He is named after Goku's adoptive grandfather, Gohan.
Unlike his father, Gohan lacks a passion for fighting (although, he does possess a strong power within him) and prefers to do so only when his loved ones are threatened. Nevertheless, Gohan fights alongside the Dragon Team in the defense of Earth for much of his life.
Abilities:
Acrobat
Flying
Melt Ice
Melt Gold
Laser Deflector
Invulnerability
Super Strength
Super Strength Handless
Super Transformartion (SSJ1, SSJ2 and Mystique Gohan)
Demonic Sword Access
Ki Recharge
Intelligence
Toy Tag:
Gallery: