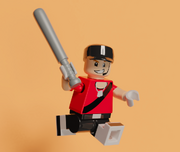 Scout is a Team Pack character from the franchise Team Fortress 2.
Abilities
Acrobat
Grind Rails
TF2 Teleport (Ability exclusive to all TF2 characters)
Born and raised in Boston, Massachusetts, USA, the Scout is a fast-running scrapper with a baseball bat and a snarky "in-your-face" attitude. He is the fastest and most mobile mercenary on the battlefield unassisted. Carrying a Scattergun, a Pistol, and a Bat, the Scout is an ideal class for aggressive fighting and flanking.