(entry quotes TBA)
Rey is a playable character in LEGO Dimensions. She comes in the Star Wars: Episode VIII story pack.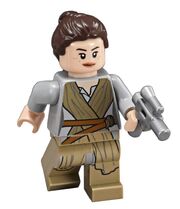 World
Star Wars: The Millenium Falcon
Abilities
Weapon Swap

NN-14 Blaster (Target)
Scavenger Quarterstaff (Pole Vault)
Anakin's Lightsaber (Vine Cut, Illumination, Drill)
Rey's Lightsaber (If she gets one)(same as Anakin's)

Acrobat
Fix-It
Magic
Quotes
TBA
Trivia
She is voiced by Daisy Ridley, who reprises her role from the film.