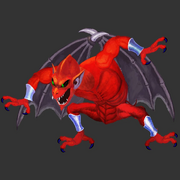 The Red Arremer is a Team Pack character from the franchise Ghosts n' Goblins.
Abilities
Flight
Sonar Smash
Cursed Red Lego Objects
Dig
The Red Arremers (レッドアリーマー Reddo Arīmā) are part of the Red Arremer species that serve the ruler from the Demon Realm. They are winged humanoid demons with red skin, sharp claws in the hand and feet, and wings that allows them to fly at high speed. They are able to release fireballs from the mouth.