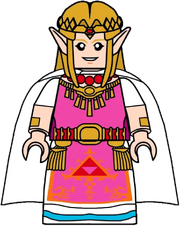 Princess Zelda is a Fun Pack character from the franchise Legend of Zelda.
Abilities:
Acrobat
Illumination
Laser Deflect
Magic
Target
Intelligence
Background from Heroes Wiki:
Princess Zelda is not one individual, rather multiple individuals born into the Royal Family of Hyrule in The Legend of Zelda series. An almost completely unique incarnation of Zelda or one of her alter egos has always been one of the central characters in the series. Each one varying in age and appearance, although nearly all incarnations take the form of a beautiful woman or girl with long hair (usually blonde).
Most incarnations of Princess Zelda are portrayed as the possessor of the Triforce of Wisdom, and many also possess several magical abilities, such as telepathy, shapeshifting, and the ability to conjure powerful magical blasts. She is an enemy of Ganondorf and is often kidnapped by him or battles against him and gives aid to Link.