We're Getting Mutants in the MCU - The Loop
Play Sound
Pennywise the Dancing Clown is a fun pack character from the franchise It (Remake).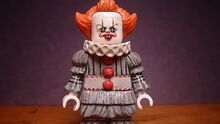 Abilities:
Shape Shift

Pennywise

Growth
Illumination
Slurp Access
Glide

Spider Form
Flute Lady
Leper
Georgie
Henry Bowers
Paul Bunyan
Vision Bird Creature

Cursed Red Lego Objects
Scan Disguise
Drone Maze (Stan's Head with Legs)
Quotes:
When entering game: "Hi-ya!"
When entering game 2: "Is this real enough? It was real enough for Georgie!"
When exiting game: "Fear."
When exiting game 2: "Don't go growing up without me!"
When respawning: "There is more!"
When respawning 2: "Pennywise the Dancing Clown has returned!"
When meeting self: "Two clowns is better than one!"
When meeting Bill: "I took Georgie, because you weren't there Bill."
When meeting Ben: "Hey Egg Boy!"
When meeting Richie: "Beep Beep Richie."
When meeting Bev: "Tell me Bev, are you still Daddy's little girl?"
When meeting Stan: "Stanley, Stanley, Stanley, scared of a silly painting. Don't want the flute lady to play you a song?"
When in combat: "Time to float!"
When obtained gold brick: "Tasty, tasty, beautiful gold!"
When in vortex: "This isn't what I meant by floating!"
When meeting any of the Jokers: "I'm not in a fun house!?! Why does this reflection of me look weird?"