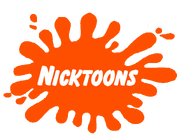 The
Nicktoons World
is one of the Adventure Worlds of LEGO Dimensions.
Keys
Sandy Cheeks
Helga Pataki
Otto Rocket
Reggie Rocket
Twister Rodriguez
Sammy Dullard
Invader Zim
Jenny Wakeman
Tak
Locations
Restorations
Restore the Fiery Fist-O-Pain
Restore the Boating School Track
Restore the Bi-annual Jellyfishing Convention
Restore the Bat Outta Heck Roller Coaster
Restore Jimmy's Rockets
Restore the Lindbergh Elementary Relay Race Track
Restore the Amity Park Swap Meat Items
Restore the Big Wand
Restore the Dinoland Roller Coaster
Restore the ComVee
Restore the Madtown Skatepark Ramps
Restore Rocket Beach's Surf Shacks
Retsore the Goop Zone's Rides
Quests
Find all of Pearl's missing CDs, CD Players, Microphones and Radios (Given by Pearl Karbs)
Find the missing boat parts (Given by Mrs. Puff)
Find lost weights (Given by Larry the Lobster)
Round up lost Llamas (Given by Carl Wheezer)
Find all of Sheen's missing Ultra Lord Action figures (Given by Sheen Estevez)
Clean up the Vortex Family's Backyard (Given by Cindy Vortex)
Find Libby's lost boomboxes (Given by Libby Folfax)
Find missing lawn ducks (Given by Hugh Neutron)
Find missing pie ingredients (Given by Judy Neutron)
TBA (Given by Ms. Fowl)
Retrieve missing ice cream cones, sundaes and sandwiches (Given by Sam Melvick)
TBA (Given by Sam Manson)
TBA (Given by Tucker Foley)
TBA (Given by Mr. and Mrs. Turner)
TBA (Given by A.J.)
TBA (Given by Chester McBadbat)
TBA (Given by Principal Waxelplax)
TBA (Given by Trixie Tang)
Round up the scrambled fairies (Given by Jorgen Von Stangle)
Find Chuckie's lost Reptar Doll (Given by Chuckie Finster)
Round up lose insects and other bugs (Given by Phil and Lil DeVille)
Find Angelica's lost Cynthia Dolls (Given by Angelica Pickles)
TBA (Given by Susie Carmichael)
Find missing parts for inventions (Given by Stu Pickles)
TBA (Given by Grandpa Phil)
Retrieve missing beepers (Given by Big Bob Pataki)
TBA (Given by Harold Berman)
TBA (Given by Sid and Stinky)
TBA (Given by Phoebe Heyerdahl)
TBA (Given by Rhonda Lloyd)
Take pictures of different animals of the world (Given by Nigel Thornberry)
TBA (Given by Marianne Thornberry)
Find all of Debbie's missing magazines (Given by Debbie Thornberry)
TBA (Given by Lars Rodriguez)
TBA (Given by Tito Makani)
TBA (Given by GIR)
Find missing robot parts (Given by Nora Wakeman)
TBA (Given by Brad Carbunkle)
TBA (Given by Moon Juju)
Community content is available under
CC-BY-SA
unless otherwise noted.