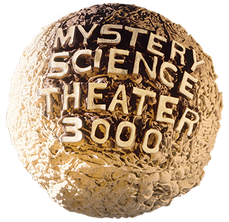 Mystery Science Theater 3000 is a franchise that is playable in LEGO Dimensions.
Packs
MST3K Level Pack
Jonah Heston

Joel Robinson
Mike Nelson

Tom Servo
Crow T. Robot
MST3K Team Pack
Dr. Clayton Forester
TV's Frank
Tank Top
TBA
Adventure World
Satellite of Love
Gizmonic Institute
Deep 13
Castle Forrester
Level Plot Ideas
1. It could be like the Midway Arcade level, where you play through cheesy B-science fiction films instead, and the Master from Manos: The Hands of Fate could be the big boss battle at the end.
Community content is available under
CC-BY-SA
unless otherwise noted.