Mysterio is a polybag character from the franchise Marvel Cinematic Universe.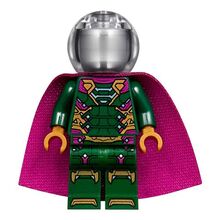 Abilities:
Flight
Magic
Magic Shield
Laser
Drone Mazes
Background (From Brickipedia):
Quentin Beck claims to be from another dimension known as Earth-833 whom has a mission from an alternate reality to stop the Elementals with the help of S.H.I.E.L.D. and Spider-Man. However this story was a lie and the truth is he was causing death and destruction with drones and holographic imaging.