Mr Firehose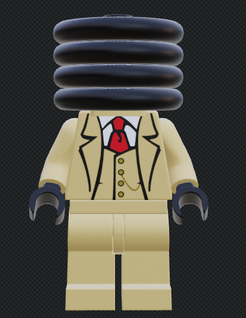 Franchise: 31 Minutos
Gender: Male
Residence: Santiago, Chile
Appear in: Lego Dimensions 2 Powers Collision

Mister Fire Hose or Eusebio Firehose (Also Know as Señor Manguera) is one of the Non-Playable Characters that appear in Lego Dimensions 2 Powers Collision. He belonging to the 31 Minutos franchise.
Background
He is an eccentric millionaire who spends his fortune carefree, acquiring the rarest eccentricities, such as eating roasted panda bears and warming himself with bonfires of banknotes. He likes the power, the money, the fact of sending and firing his employees, he is also quite severe when he discovers that his employees waste the money of the program and sometimes he manages to find opportunities to raise the rating or save, but the way he It develops not always as expected. He has a double life as the Boss of the Mafia in which bets are made.
It was he who ended up hiring the young intern Patana Tufillo on the newscast, for her remarkable performance on her first day in the studio. During that scene it is seen that he has a cat with him, but he would not let them touch it.
Quests:
The dismissal of Mico
I need my channel back
By Mr. FireHose
Trivia:
In the series he was played by Fernando Solis who reprise his role in the game.
He is one of the characters in the game that assigns the most quests in the game.