Minecraft: Story Mode is one of the many franchise LEGO Dimensions.
Adventure worlds

Far lands
Portals chamber
Redstonia
Bo0m T0wn!!!
Crown Mesa
PAMA's interior
Mysterious dimension
White Pumpkin's mansion
The End (MCSM)
Nether (MCSM)
Hall of Fame
Gabriel's temple (location)
Jesse's treehouse
Endercon
Characters/Objects
Playables
Jesse

Jesse (armored)*
Olivia*
Olivia (armored)*
Petra*
Petra (armored)*
Axel*
Axel (armored)*
Lukas*
Lukas (armored)*
Ivor*
*Not included physically, but playabale in-game upon completing the Mincraft: Story Mode story pack
Formidi-Bomb

Minecart (MC:SM)

Gabriel's temple
*Rebuilds and Re-rebuilds from Formidi-Bomb
Non-playables
Otto
PAMA
Gabriel
Em
Magnus
Ellegaard
Stampy cat (MC:SM)
Captain Sparklez(MC:SM)
LDShadowLady/Lizzy
Cassey Rose/White Pumpkin
Witherstorm
StacyPlays
Reuben
Reuben guy/False Rueben/Awkard man
Meatface
The blazerods/Ocelots
Hadrian
Mevia
Nell
Clutch
Harper
Slab
Isa
TorqueDog
Soren
Magnus
Customs by Creepa-Bot Inc.
Packs
Characters
Adventure World Gateway
Adventure World
Health Bar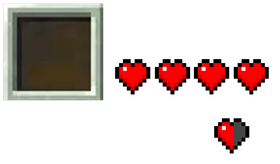 The character frame is a Minecraft inventory slot. The hearts are normal Minecraft hearts. When damaged, they have one half taken out, just like in the game.