Matthew Pattel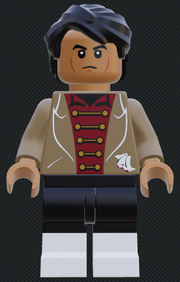 Franchise: Scott Pilgrim
Gender: Male
Appear In: LEGO Dimensions 2 Powers Collision

Matthew Pattel is one of the Non-Playable Characters featured in LEGO Dimensions 2 Powers Collision. He belongs to the Scott Pilgrim franchise.
Background
A former boyfriend from the seventh grade. He and Ramona Flowers dated for only a week and a half, during which Ramona pretty much used Matthew and his mystical powers to ward off flocks of jocks interested in her. She dated Matthew, according to her own story, because he was the only non-white and non-jock kid at her school. The two only kissed once, and it ended shortly after due to Matthew's pre-adolescent capriciousness. Afterward, Matthew turned evil during his high school years and by that time had moved far, far away. He also apparently took the break-up very badly, looking much more evil than most of the exes...
In the game:
Matthew appears in Scott Pilgrim's Adventure World as a boss.