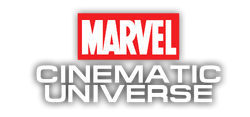 Marvel Cinematic Universe is one of the many franchises in LEGO Dimensions. It is a sub-franchise of Marvel.
Related Characters/Objects
Iron Man Story Pack

Iron Man
Battle Arena: Ten Rings Hideout
Level Names:

Award Ceremony
The Jericho
A Secret Project
Escaping the Ten Rings
Testing Time!
Obadiah the Copy Cat

Captain America and Winter Soldier Team Pack
Spider-Man Level Pack

Spider-Man

Staten Island Ferry
Flash's Car

Battle Arena: Spider-Man '67
Level Name: Friendly Neighborhood Spider-Man

Black Widow Fun Pack
The Incredible Hulk Fun Pack
Hawkeye Fun Pack
Thor Fun Pack

Thor
Battle Arena: Nidavellir

Black Panther Level Pack

Black Panther

Royal Talon Fighter
Hologram Car

Battle Arena: History of Wakanda (Intro Scene)
Level Name: Wakanda Forever!

Thanos Fun Pack
Star-Lord Level Pack

Star-Lord
Battle Arena: Ego the Living Planet
Level Name: Part of a Plan

Rocket Raccoon Fun Pack
Drax and Gamora Team Pack
Captain Marvel Fun Pack
Loki Fun Pack

Loki
Battle Arena: Battle of New York (2012)

Ant-Man Level Pack

Ant-Man
Battle Arena: Quantum Realm
Level Name: Not Just a Heist

Doctor Strange Fun Pack
Nick Fury Polybag
Mysterio Polybag
Black Panther Level Pack

T'Challa

Royal Talon Fighter
Armored Rhino
Spider-Man: Homecoming Level Pack

Spider-Man

Staten Island Ferry
Flash's Car
Captain Marvel Level Pack
Avengers: Endgame Story Pack

Tony Stark
Steve Rogers

Time Machine
Battle Arena: Avengers Compound
Community content is available under
CC-BY-SA
unless otherwise noted.