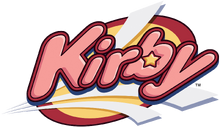 Kirby World is one of the many Adventure Worlds in LEGO Dimensions. It is based on the Kirby franchise created by Nintendo.
Keys
King Dedede

Meta Knight

Bandana Dee
Locations
Planet Popstar

Dream Land
Cappy Town
Castle Dedede
Whispy's Forest
Float Islands
Butter Building
Lor Starcutter
Fountain of Dreams
Nightmare's Fortress

Mirror World
Patch Land
Restorations
Restore the Fountain of Dreams (30,000 Studs)
TBA
Quests
TBA (Given by Adeleine)
The Perfect Plan (Given by Marx)
Who Am I? (Given by Gooey)
Fixing a Starship (Given by Magolor)
Treasure Hunt (Given by Daroach)
NPCs
Ribbon
Rick, Kine & Coo
Pitch, ChuChu & Nago
Dark Meta Knight
Galacta Knight
Taranza
Drawcia
Susie
Prince Fluff
Tiff & Tuff
Chef Kawasaki
Nightmare
Escargoon
Hyness
Void Termina
Whispy Woods
Lololo & Lalala
Kabula
Kracko
Paint Roller
Francisca
Mr. Frosty
Waddle Dee
Waddle Doo
Cappy
Bronto Burt
Gordo
Broom Hatter
Red Brick
Right Back at Ya: Makes the user small with big head and able to fly in the air. Their target ability becomes into shooting stars.
Trivia