"Heyyy!"

— Jovis' first line when entering the game
"[Harsh, airy] HEY..."

— Jovis' second line when entering the game
Jovis
Jovis during the Battle for the Diamond Fist.
Character Information
Name
Jovis
Gender
Male
Franchise
Dragonheart
Weapons/Accessories
Harpoon Gun
Vehicles and/or Gadgets
Blast Shield
Occupation
Metallurgist
Residence
Dragon Valley
Jovis is a Dragonheart
LEGO Voidhoppers
character appearing in LEGO Store Polybags.
Background
Jovis is the descendant of one of the survivors of the Great Purge of Humanity, an event in the Dragonheart universe that destroyed roughly ninety percent of the world seven hundred years ago. When Jack Grayson emerged from hiding after that seven hundred years, Jovis was one of his first friends, as he was a descendant of and bore resemblance to one of Jack's friends from before the Purge.
Jovis was born and raised on the outskirts of the port town of Dragon Valley, and was apprenticed to a local blacksmith soon after his sixteenth birthday. He proved skilled in the art, and started his own shop with a local scientist and engineer two years later. Through the business partner, he met James, and they became fast friends. Later on, they indulged their mutual friend's interest in history, and agreed to search for his ancestor's brother, traced back through generations: Jack Grayson, the Dragonheart and the Doom of Humanity.
They found him, all right.
As it turned out, Jack had hidden himself away in one of the old subway tunnels scattered around the old city. Though they were at first scared and nervous around Jack, they grew accustomed to his rather playful, puerile yet mature demeanor and accepted that he was capable of making mistakes. Unknowingly, they had started Jack down the road to recovery from the Great Purge.
Quotes
"Could this be solved by a large explosion?"

— Jovis when unable to solve a puzzle
"Lemme just take that secret..."

— Jovis when able to solve a puzzle
"Gotcha!"

— Jovis after solving a puzzle
"But wait! There's more!"

— Jovis' second line after solving a puzzle
"What if this is a diversion?"

— Jovis when fighting a boss
"Lemme just take those weapons..."

— Jovis when entering combat
"I'm gonna need some more BOHMBS..."

— Jovis' second line when entering combat
"BYE..."

— Jovis when leaving the game
Animations
Combo Attack:
Jovis stabs with the front of the gun, raises the butt of the handle and smacks the target with it, then punches with his left hand.
Finishers:
Jovis takes out the Electrolysis IED, then plants it at his feet and slides it over to the victim. One explosion later, all that's left are drops.
Jovis rotates the chamber of the Harpoon Gun and fires three darts at the victim.
Idle:
Jovis rotates the chamber of the Harpoon Gun.
Jovis fills the Electrolysis IED from a bottle of Mana (A highly volatile, purplish liquid).
Abilities
Precision
Silver LEGO (Electrolysis IED)
Technomagic
Trivia
Character Tag
Jovis' tag is red and grey, with the harpoon gun Jovis uses on the front.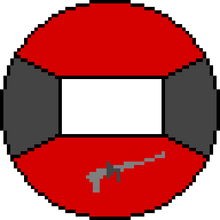 Community content is available under
CC-BY-SA
unless otherwise noted.