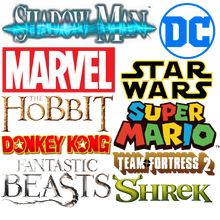 Franchises are the brands that are represented in LEGO Dimensions 2: The Rise of Enoch. Each franchise has its own Adventure World, and all have a Battle Arena for each set.
Franchises
Easter Egg Franchises and Allusions
Internet Memes - There is a reference to an internet meme about Magneto's entrance line saying "Welcome to Die!", a reference to the 1992 X-Man arcade game.
Monster Musume - Miia, Papi, Centorea, Suu, and Rachnera Arachnera appear as Easter Eggs when they are summoned by a Locate Keystone, looking for Kimihito.
Community content is available under
CC-BY-SA
unless otherwise noted.