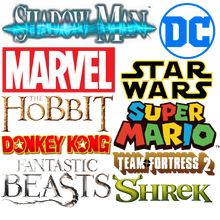 Franchises are the brands that are represented in LEGO Dimensions 2: The Rise of Enoch. Each franchise has its own Adventure World, and all have a Battle Arena for each set.
Franchises
Easter Egg Franchises and Allusions
Internet Memes - There is a reference to an internet meme about Magneto's entrance line saying "Welcome to Die!", a reference to the 1992 X-Man arcade game. Morshu, a character in the Phillips CD-i game Link: The Faces of Evil, makes an appearance as an Easter Egg where he sells Lamp Oil, Ropes and Bombs to the player. A Red Brick references his famous quote from the game's cutscene. The Wario Dies meme also makes it's presence in the game, most notably in Toad-al War where a short cutscene with Wario occurs.
Monster Musume - Miia, Papi, Centorea Shianus, Suu, and Rachnera Arachnera appear as Easter Eggs when they are summoned by a Locate Keystone, looking for Kimihito.
Resident Evil - Lady Dimitrescu and Bela appear in portraits as Easter Eggs inside Enoch's Castle in the level Fate of the Multiverse.