Flash (Arrowverse)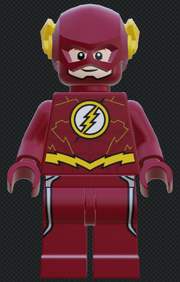 Franchise: Arrowverse (DC Tv)
Real Name: Barry Allen
Gender: Male
Residence: Central City
Vehicule: Cosmic Treadmill
"My Name is Barry Allen the fastest man alive"
- First Line When entering in game

Flash (Arrowverse) is one of the Story Pack Characters that appears in LEGO Dimensions 2 Powers Collision, belonging to the Arrowverse franchise or DC CW TV Shows, which is a DC Sub-franchise.
Background
Bartholomew Henry "Barry" Allen is a scientist in the Criminal and Forensic Science Division of Central City Police Department. Barry is the son of Henry Allen and Nora Allen, the foster son of Joe West, and the best friend/boyfriend of Iris West. Barry's mother was murdered when he was a child and the blame was wrongfully placed on his father. He was taken in by Joe West and he dedicated his life to proving his father's innocence.
After the S.T.A.R. Labs particle accelerator exploded, it caused a giant thundercloud to form and Barry was struck by lightning, falling comatose for nine months. When he woke up from his coma, he discovered that he had developed superhuman speed and various other abilities derived from it. Using these super powers, he began acting as the vigilante and superhero known as Red Streak or The Streak. Soon after, the public recognized him as The Flash, stylized as the Scarlet Speedster. But Barry wasn't the only person who was given extraordinary abilities that night. The dark matter also created meta-humans, many of whom have wreaked havoc with their powers on the city. With the help of his scientist friends at S.T.A.R Labs, Caitlin Snow, Cisco Ramon, and Dr. Harrison Wells, Barry began a journey as The Flash to protect the people of Central City from these powerful new threats. With this team, Barry was finally able to defeat the Man in Yellow, aka The Reverse Flash.
Abilities
Sonic Races
Treadmill
Master Builder
Super Strength
Super Strength Handless
Electricity
Electricity Absorption
Spinjitzu
Acrobat
Time Machine Puzzle
Character Changing (Can Change into regular DC Version)
Toy Tag:
Gallery: