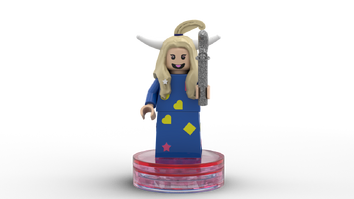 Eureeka is one of the Fun Pack characters in the Eureeka's Castle franchise.

Background
Eureeka is a sorceress in training. She usually can keep calm unless she keeps getting interrupted when trying to practice a spell. Most of the time, Eureeka doesn't get a spell correctly on the first try, usually making something completely different happen than what she intended.

Abilities
Magic
Illumination
Growth
Hazzard Cleaner
Magical Shield
Water Spray
Quotes
"Hi, I'm Eureeka!"
First line when entering the game
"Let's do some magic!"
Second line when entering the game
"I wonder how everyone back at the castle is doing."
Idle line
"Oh, wand whiskers!"
Line when respawning
"You must be Hermione Granger. I've heard a lot about you! Do you think you could help me improve my magic?"
Line when Hermione Granger is in game
"Harry Potter! I hope I can be as great at magic as you someday!"
Line when Harry Potter is in game
"I should probably get back to working on my magic. This was a fun break though!"
Line when leaving

Voice Actor