Envy Adams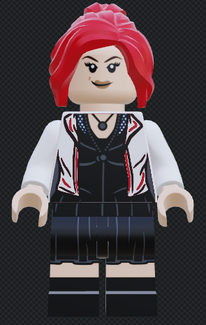 Franchise: Scott Pilgrim
Gender: Female
Ocupation: Singer
Appear in: Lego Dimensions 2 Powers Collision

Envy Adams is one of the Non-Playable Characters that appear in Lego Dimensions 2 Powers Collision. She belongs to Scott Pilgrim Franchise.

Background:
Natalie V. "Envy" Adams is Scott Pilgrim's ex-girlfriend who brutally dumped Scott in college prior to the events of the book. She was initially a quiet, mousey girl, but she decides to change herself and her self image. She ends up becoming more callous and aggressive in contrast to her initial personality. Natalie eventually takes over Scott's band and dumps him without warning. She reappears later in the series, introduced as the lead singer and keyboardist for the popular emerging band The Clash at Demonhead, no longer going by "Nat" or "Natalie." Scott describes her original personality as being "nice" and is baffled as to what she has become (claiming in the movie, "You used to be so nice!"). Envy was in a relationship with Ramona's ex-boyfriend Todd Ingram and claims to know about Ramona's past.

In the game:
Later in Adventure World Envy Adams will appear assigning you a Quest of her, where she will have to help her get to the bus stop without being chased by her fans. After helping her to go to the Autbos stop, she will thank you and give you a Golden brick.
Trivia:
In the Scott Pilgrim movie she was played by Brie Larson who reprise her role in this game.
Her design is the same as she has in the Scott Pilgrim VS The World video game.