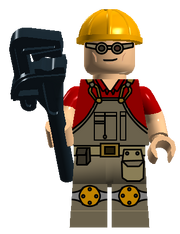 Engineer is a Team Pack character from the franchise Team Fortress 2.
Abilities
Fix-It
Sonar Smash (Guitar)
Technology
Drone Maze
TF2 Teleport (Exclusive to TF2 characters)
Background from TF2 Wiki
The Engineer is a soft-spoken, amiable Texan from Bee Cave, Texas, USA with an interest in all mechanical things. He specializes in constructing and maintaining Buildings that provide support to his team, rather than fighting at the front lines, making him the most suitable for defense.