We're Getting Mutants in the MCU - The Loop
Play Sound
Emmet RexQuad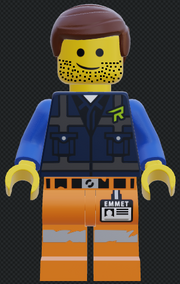 Emmet RexQuad is one of the Team Pack characters in LEGO Dimensions 2 Powers Collision, from The LEGO Movie 2 the Second Part franchise.
Background:
Emmet Joseph Brickowski has been working most of his life on the construction site in the city of Bricksburg. He longs to be popular, but his co-workers hardly notice he is there. He lives life by the book--literally--and builds things only from the instructions and because of this, however, he is mostly boring and uncreative, except for at some moment of inspiration, like his inventing the "double decker couch". He isn't a fan of adventure or danger either (similar to Bilbo Baggins), both of which gives him reasons for "freaking out".
One day, however, he stumbles upon the Piece of Resistance while going after Wyldstyle, which makes the Master Builders mistake him as being "The Special", which means he must stop Lord Business from gluing the world together with the Kragle and From that point on, he is caught in a desperate struggle between the powers of order and imagination by Lord Business and the Master Builders, respectively--as well as his self-acceptance in being special in his own ways.
In the final battle, Emmet convinces Lord Business that creativity isn't messy or weird, and that it is okay for the people to build brand-new ideas from all the things Business himself had made, which makes him special, too, just like everyone is special. Moved by Emmet's speech and touched by being considered special, Business applies the Piece of Resistance on the Kragle, which soon causes the Kragle to explode, deactivating all of his robot minions and unfreezing his victims (though the real "victims" were saved when the Man Upstairs cleaned the glue off them). He then became Wyldstyle's boyfriend and was seen sitting down along with the Master Builders and Lord Business at his double-decker couch.
Abilities:
Fix-It
Drill
Master Builder
Super Punch
Master Builder Destruction
Toy Tag:
Gallery: