Drax is a Team Pack character from the franchise Marvel Cinematic Universe.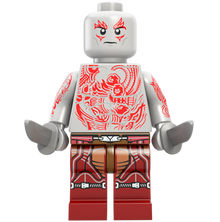 Abilities:
Super Strength
Vine Cut
Acrobat
Stealth
Background (From Brickipedia):
Drax the Destroyer is a member of the Guardians of the Galaxy, which also consists of Star-Lord, Gamora, Groot and Rocket Raccoon. He vengefully pursues Ronan the Accuser, whom he believes killed his family.