The Doom Slayer is one of the playable characters from the franchise Doom.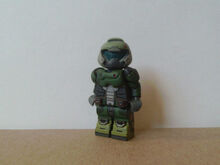 Quotes (All lines said by UAC announcer):
When entering the game: "The Doom Slayer has entered the facility."
When exiting game: "The Doom Slayer has left the facility, proceed with normal routine."
When obtained gold brick: "Attention all staff, the Doom Slayer has obtained a gold brick."
When entering combat: "Demonic threat detected."
When using Tardis: "The Time And Relative Dimensions In Space has been activated."
When meeting a Harry Potter character: "Magic abilities have been detected in this area."
Abilities:
Super Strength
Break Cracked Wall
Weapon Wheel
Grapple Hook
Sword Switch
Vine Cut