Dominique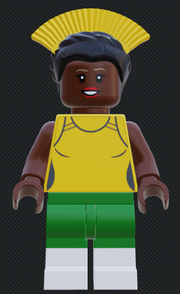 Franchise: Scott Pilgrim
Gender: Female
Appear in: Lego Dimensions 2

Powers Collision
Dominique is a non playable character that appears in Lego Dimensions 2 Powers Collision, she is from the Scott Pilgrim franchise. She appears in Scott Pilgrim's World and will assign you a mission and a restoration.
Restoration:
Dominique will be in the Happy Avocado restaurant which is destroyed and will ask you to rebuild it, when repairing it will appear 3 mechanisms that we will have to activate using the Shift Keystone the first mechanism is a sword switch, the second mechanism is activated by reading guitar musical notes acoustic and the third mechanism is a force meter that is activated with a hammer, after this the door of the Happy Avocado will be open and customers will begin to enter.
Mission:
After repairing the Happy Avocado, Dominique will assign us a mission in which she will ask us to keep the restaurant safe from vandals, after 50 enemies defeated she will thank us for helping and give us a golden brick.

Quotes:
Scott, if I find out that you caused this, I'll break your bones.
(When she assigns you the repair)
You can help?
Hello, I do not know if you have been watching the news but there have been several problems with criminals they have been destroying several establishments and with the reopening of the restaurant to the public that will be a problem so I need you to help me rid the restaurant of any criminal who approaches .
(When she assigns you the Quest)
Watch out
My god no
Maybe they are not so dangerous after all.
(Duty to Quest)
Thank you, now that all the criminals have been defeated, my restaurant is risk-free to the public, I was quite distressed for a second but the good thing is that everything went well, I will give you this brick, I really do not see value but surely it will serve you, come back whenever you want , we serve good food.
(At the end of the Quest)

Trivia:
After completing the restoration and mission involving her, she will appear walking in the city.