Crash Bandicoot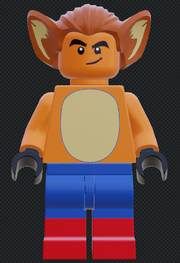 Franchise: Crash Bandicoot
Gender: Male
Allies:

Coco

Crunch

Aku Aku

Dingodile

Tawna

Yaya Panda

Quantic Mask
Weapons: Whoompa
Vehicule: Motorcycle
Gadget: Ultimate Box

"Crash Bandicoot!"
- Crash's First Line When Entering the Game.

Crash bandicoot is one of the Level Packs Characters that appear in Lego Dimensions 2 Powers Collision. He belongs to the Crash Bandicoot franchise.

Quotes:
"Woah!"
- Crash when in the portal.

Abilities:
Acrobat
Silver LEGO Blowup
Spinjitzu
Target
Climb
Dig
Tracking
Dive
Fly
Stop Time
Woompa Eating
Character Changing (Can Change into Evil Crash)
Special attacks:
On his first special attack, Crash will hit the enemy spinning until the enemy falls down and is defeated.
In his second special attack, Crash will take out a Whoompas trash and aim it at the ground which will defeat the enemy.
Trivia:
Crash is once again played by Jess Harnell.
Special thanks to:
- Fiction Nerd for giving the idea of the vehicle.
Gallery: