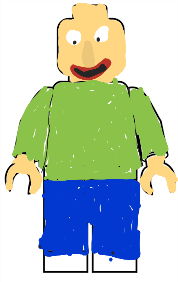 Baldi is the antoganist from baldi's basics in education and learning. He chases the player in his slenderman styled game.
Quotes
"Welcome to Baldi's Basics In Education And Learning, with me!" Entering the game
"Congratulations! You found all seven notebooks! Now all you need to is... GET AWAY WHILE YOU STILL CAN!
"Whooshhhhhhhhhhh..!" Leaving the game
Abilities
Sword Switches (Ruler)
Vine Cutting (Ruler)
Target (Quarter)
Hacking (Notebook)
Camo
Super Speed
Fix-It
X-Ray Vision
Distract
Disguise
Detective
Item Change (None, Ruler, Quarter, Notebook)
Community content is available under
CC-BY-SA
unless otherwise noted.