Andromeda is a location in LEGO 1001 Spears Vega.
Adventure World Portals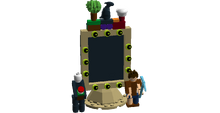 The Venture Portal depicts a Wyve Portal atop a pile of Wyve Rocks, filled with Eyeballs of Wyve to power the portal itself, surrounded by a Wyveslender holding a block of Wabe with a Morel, Robert Jacob with a diamond pickax, and three world symbols on top: an Over World symbol with Wabe and a Tree, a Wyve symbol with obsidian and the Wyvern, and a Hell symbol with molten rock and an Espouse.
The Morphers Portal's appearance is currently unknown.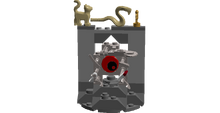 The BIOMECHA Portal depicts Likuta bursting out of the Factory, piles of ruin below him, and Bombeim and Anguis chasing Paisenuef. Likuta is in his true form, and equipped with chainsaws, ice saws, ice axes, pickaxes, axes, hatchets, halberds, battle axes, tomahawks, throwing axes, pole axes, bills, guan daos, and other weaponry. It is based on a combination of various scenes from BIOMECHA: Helmet of Power.
The WWIII Portal's appearance is currently unknown.
Community content is available under
CC-BY-SA
unless otherwise noted.