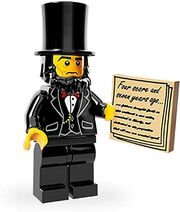 Abraham Lincoln is a Team Pack character for the Lego Dimensions franchise American History.
Abraham Lincoln was the 16th president of the United States, serving from March 1861 until his assassination by John Wilkes Booth whilst he was in a theatre in April 1865. He led the United States through its greatest constitutional, military, and moral crisis - the American Civil War - preserving the Union, abolishing slavery, strengthening the national government and modernizing the economy.
In the present, Lincoln appears on the obverse of the US five dollar bill, and on the same side of the US penny and he also famously has a giant marble statue in the Lincoln memorial in Washington DC in his honor.
Abilities:
Silver Lego Blowup (Pulls out Civil War cannon)
Super Strength
Intelligence
Quotes:
When Entering Game: "Be sure you put your feet in the right place, then stand firm."
When Entering Game 2: "All that I am or ever hope to be, I owe to my angel mother."
When Exiting Game: "I will prepare and some day my chance will come."
When Exiting Game: "All I have learned, I learned from books."
When Achieved Gold Brick: "Commitment is what transforms a promise into reality."
When with George Washington: "Four score and seven years ago our fathers brought forth on this continent, a new nation, conceived in Liberty."
When in Combat: "I don't like that man. I must get to know him better."
When with Two-Face: "If I were two-faced, would I be wearing this one?"
When Respawning: "I laugh because I must not cry, that is all, that is all. "
When meeting an alien, ghost, talking animal, or robot: "Whatever you are, be a good one."
When traveling through vortex: "I walk slow but I never walk back."
Community content is available under
CC-BY-SA
unless otherwise noted.