4Corners is one one of the many franchises in LEGO Dimensions. Thefunstreamer and MilesRS677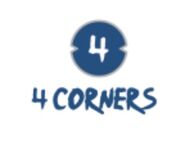 created this franchise.
Background
This comedy involves four 12-year-old kids named Mark Smith, Luke Hopkins, Veronica Jackson and Ryan Williams. Mark is young guitar player that dreams of becoming a rock star by being on his favorite TV show, The Rock 'n Rollers. Luke is extremely nerdy and knows everything. Veronica is young girl and likes to participate in beauty pageants and listen to music on her MP3 Player. Ryan is an acrobatic athlete with muscle and always leads his sports teams to victory. These four kids sign up for a contest in which the winner gets to live in a penthouse apartment with no parents. The contest says only one person will win, but a mix-up causes all four of them to win. In the penthouse, they learn to get along and crazy things can happen, but everything works out fine in the end.
Packs
Mark Level Pack
Luke and Veronica Team Pack

Luke Hopkins
Veronica Jackson

Beauty Boat

Biplane of Beauty
Beauty Diver

Ryan Fun Pack

Ryan Williams

BasketBomb

Drone Ball
Tennis Shooter
NPCs
Level
Adventure World
Cornerville

Corner Apartments

The Penthouse

Mark's Room
Veronica's Room
Ryan's Room
Luke's Room

Cornerville Middle School
Burgers-A-Planty
Cornerville Studios

Rock 'n Rollers Set
News Set

Cornerville Mall
The Park
Minikits
Quests
Red Brick
Rock and Roll (Replaces music with 4Corners music)
Restorations
Trivia
A TV show adaptation of this franchise is in production.

The voice actors from this franchise will reprise their roles in the series

Michael Cera voiced Mark in this franchise. However he was unable to voice Robin from The Lego Batman Movie in the game.

Mark's interaction with Robin references this fact.